A friend posted some pictures on twitter of an artistic impression of her playing computer games. I loved it, wanted something similar and a month later I was the proud owner of a piece of art depicting me sat on a deckchair with my computer. The awesome banner you can see below is courtesy of the talented Steph.

This is a post to show off that work as well as to share a few tips for anyone commissioning work - whether that be something as obviously creative as a piece of art through to something more functional such as a website. Having been on both sides of the client / creator divide I wanted to give some pointers that I think help make the whole process go smoothly as well as maximising the chance that you get what you want.
Three top tips for commissioning creative work
- Do your research
- Communicate clearly
- Be a good person (aka Don't be an asshole)
Do your research
To get the best results for most things in life, do some research. In this case I'd already seen my friend Jo's commissioned piece of art. I asked her where she had got it done and was soon browsing Steph's tumblr page. Using that as inspiration I took some time to think through a top level outline of what i want.
The design isn't the only consideration - time and money are bother important. There was no rush in time from my end but it is worth having an idea of your timeline. Then the big one - money. In this case I was well prepared - having been in the web design business I have a reasonably good idea of what work like this should cost. As a point of reference here is a link to Steph's prices . More on this in the "don't be an asshole" section.
Communicate clearly
Having an idea of what you want is the first step - you are employing an expert and they will know the questions to ask to information they need to do their work and get you the best results. Trust them. I messaged Steph with an outline of what I wanted referencing pieces I liked from her portfolio. She came back with a few requests, asking for a photo (see appendix), some details about my ideas and that she required payment upfront. Paypal sprang into action and I transferred the money immediately.
When the first draft came back we talked about the uses for it and Steph optimised the image for my twitter banner and provided some other resolutions. Clear, easy communication both ways and the whole process went smooth and I got an excellent piece of work created.
Don't be an Asshole
This is a given really for anything in life, but the inner asshole often seems to come out when people are dealing with creative people and processes. This can be a wide range of reasons from not understanding the work needed through to not respecting the value of it; not appreciating the time and effort over the years to learn skills; not realising that this is someone's job - not just a bit of fun on the side. Exposure isn't money so don't offer exposure. Do your research beforehand and have an idea of what you might be expected to pay. If the quote is way above your reach then that's fine - no none is forcing you to pay it - just politely and respectively decline. Sure you can negotiate a bit if you want but what is the price of creativity? Creative people make the world a better and more beautiful place - why chisel away and try and save a few quid?
Remember it's another person at the end of the keyboard. You are employing them to do a job for you because you value it. Respect them and their process.
Finally accept that you are taking a risk and the finished product might not be 100% what you wanted. Understand that something creative isn't churning out Ikea furniture from the assembly line. Trust that the artist probably knows more than you on what goes together. If you aren't happy, be polite, go back with specific requests and work together to make it better. You probably didn't follow the above steps fully. If you still don't get something perfect then smile, and move on. Life is a big wonderful ball of mess and things sometimes just don't work out. Don't ask for your money back.
Result
Hope those tips help. Am sure there other things to consider but I reckon if you stick to those three tips you'll be alright. I was thrilled with my final piece. It's on my twitter profile and business cards. I enjoyed the process and hope that I was a good customer. Thanks Steph.
Appendix
Original Photo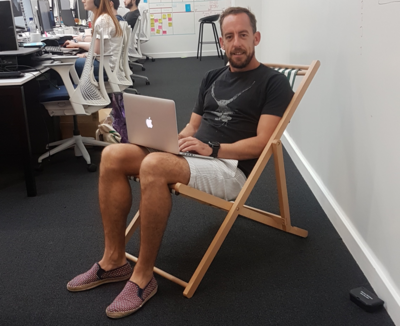 Here's the original pic I sent in. For various reasons we have a number of deckchairs at work (for Wimbledon we had our own homage to Murray mound with deckchairs and fake grass setup in front of large screens showing the tennis). Got a friendly co worker to snap a pic of me hard at work.
Business cards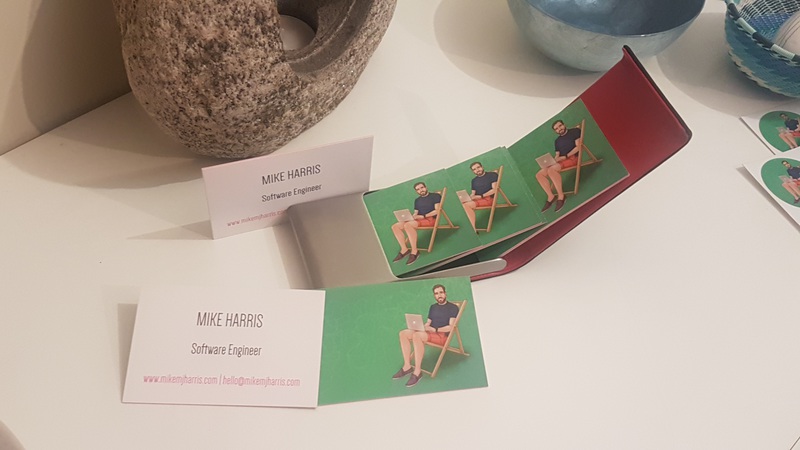 One of the advantages of working at MOO is the perk of being able to print whatever you want for free. It means I get to experiment more freely with designs and patterns. Here you can see the excellent results of the image on our thick luxe card with pink trim round the edges.